Welcome from the Chairman of the XXVth European Colloquium on Heterocyclic Chemistry
Dear Colleagues
As the European Colloquium on Heterocyclic Chemistry approaches its 50th anniversary, it is my honour and pleasure to extend a warm welcome and invitation to you to attend this prestigious meeting which will be held on the stunning campus of Reading University in the Royal County of Berkshire in the United Kingdom – the first time the ECHC has been held in the UK.
This series of biennial meetings has a true European flavour and has moved around different countries on a rolling basis, focussing on all aspects relating to heterocyclic chemistry. In this coming meeting we have a cast of world leading chemists who will present their work in the area of synthesis, synthetic methodology, materials, sustainable chemistry, medicinal chemistry and agrochemicals. With a combination of Plenary Lectures, Invited Lectures, Oral Presentations and poster sessions I can promise you a veritable feast of chemistry!
The University of Reading was awarded its charter in 1926 and is split over four of the most beautiful campuses in the UK. The meeting will be held on the Whiteknights Campus. This peaceful 130 hectare landscaped country estate, with its conservation meadows, rare tree collection and large lake, provides a natural habitat for many varieties of birds, animals, insects and plants and is a truly exceptional environment in which to hold this meeting. All scientific sessions will be held centrally in the Palmer Building and you will be accommodated in newly constructed, premium en suite residences just a few hundred metres away across verdant parkland.
Just West of London, access to Reading from Heathrow and Gatwick airports as well as London St Pancras International is swift and direct and, should you wish to travel by car, parking is available on campus. As well as the chemistry, I hope that you will find time to explore some of the locality, from the tranquility of its Thames villages and towns such as Sonning and Henley, to the majesty of Windsor with its Royal residence, the timelessness of Oxford and its university or the unbridled beauty of the Cotswolds and its stone villages.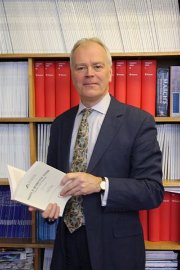 I promise you that I and the members of the UK Organising Committee will do everything to make your visit comfortable and rewarding and we very much look forward to welcoming you to the XXVth European Colloquium on Heterocyclic Chemistry at Reading during 13th to the 17th August 2012.
Yours sincerely,
Prof. Laurence M Harwood (Chairman)
Dr Geoff D. Brown
Dr Fred J. Davis
Prof Ray C. F. Jones
Dr John E. Mckendrick
Dr Andy T. Russell
Dr Janet Scott